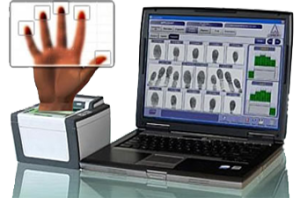 MustardSeed Health Care Services, LLC is licensed by Maryland Criminal Justice Information System (CJIS) to capture and submit fingerprints for Federal and State background checks.
We provide LiveScan electronic fingerprinting services to the public.
We accept Walk-Ins and Appointments
Mondays – Fridays
9:00 am – 5:00 pm (and appointments only, on weekends and holidays)
Click here for our Service Fees and to make a Fingerprinting Appointment.
What you can expect?
Fingerprinting is performed and submitted electronically by professional and Federally certified fingerprint technicians using state-of-the-art equipment. There will be no messy ink. You will not have to wait in long lines. Your data will be collected privately to insure the confidentiality of your personal information. In most cases the entire process takes about 15 minutes or less. Your results will be sent directly to the requesting agency/individual from CJIS within 48 hrs of the submission.
What we need from you at the time of your appointment?
Please be on time (for appointment cases)
Your Agency's Authorization & ORI Number
Any documentation, including fingerprint cards, provided by the requesting agency for your CHRC
The reason you are being fingerprinted
A valid and current Government-issued Photo ID
Download and complete this Application Form